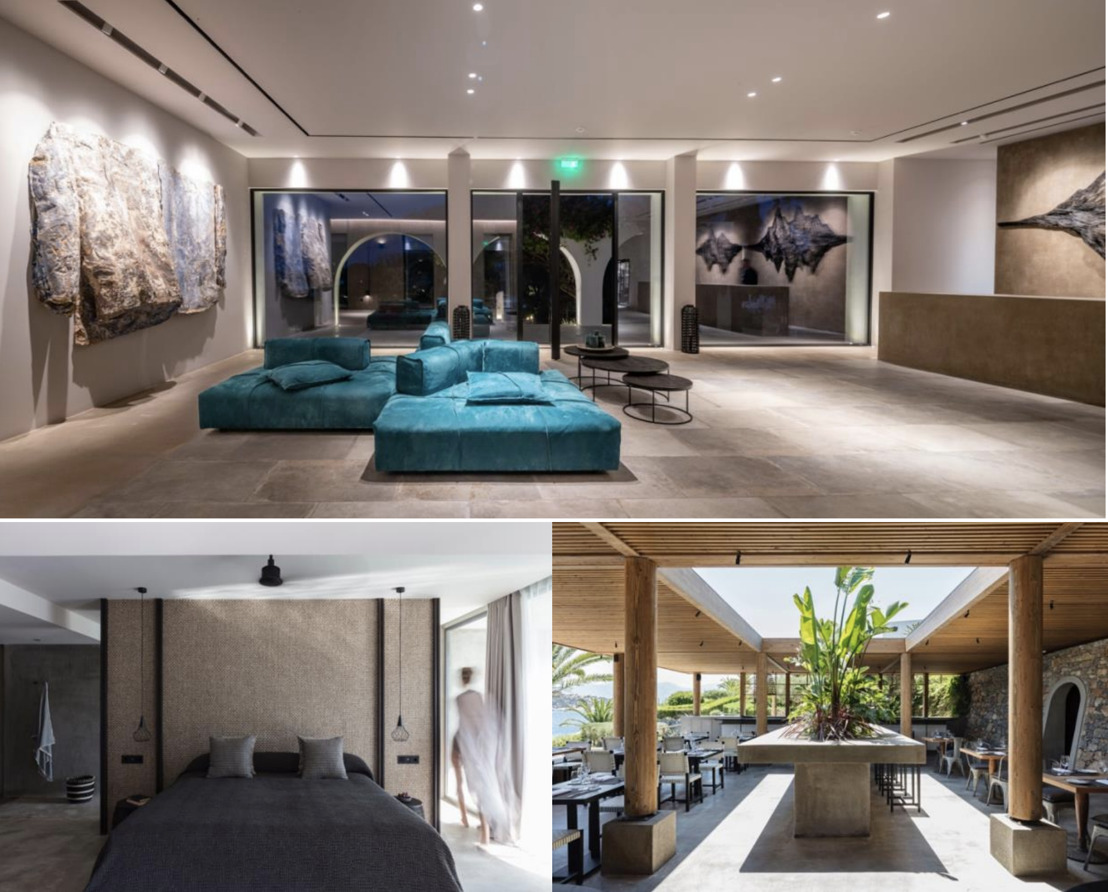 Minos Beach and Minos Palace Continue to Redefine Luxury Living
Friday, August 30, 2019 — Renowned for first-rate accommodation, authentic and warm hospitality and luxury facilities, Minos Beach art hotel and Minos Palace hotel & suites in Crete continue to add 5-star features that'll make you want to visit Crete in a heartbeat!
Minos Beach art hotel
Encompassed by the beautiful blue waters and vibrant island landscape of Mirabello Bay, Minos Beach art hotel is a popular choice for its setting alone. Traditional architectural styles and minimalist, boho-chic interiors make a striking addition.
The 5-star's picturesque, aromatic gardens constitute an eclectic outdoor art gallery, exhibiting contemporary artworks by Greek and international artists from the G. & A. Mamidakis Foundation's collection. New for 2019 is the visual exhibition and sound installation "Come with the Wind" by visual artist Theodoros Zafeiropoulos and architect Giorgos Rymenidis.
A range of rooms, bungalows, suites and villas accommodate everyone from families to couples. The three-bedroom Waterfront Villa can hold up to 6 guests and comes with a private pool!
An exciting new addition this year is La Cave de La Bouillabaisse, a contemporary wine spot on the shores of Mirabello Bay. Enjoy the finest vintages from around the world alongside some light bites whilst overlooking the glistening waters. A further 3 bars, including an amazing lounge bar on the beach, and 4 restaurants serving fine traditional Cretan gastronomy with a creative twist, allow you to experience the best of Crete's gastronomy scene.
With a serene waterfront setting, the Ananea Wellness by Aegeo Spa guarantees to introduce guests to a unique world of wellness and relaxation. An extensive range of spa services and treatments using natural ingredients will reinvigorate and rejuvenate all parts of the body.
Minos Palace hotel & suites
As Crete's only 360° sea view resort, near the picturesque towns of Agios Nikolaos and Elounda, the 5-star Minos Palace boasts a prime location. Amidst minimalist surroundings and beautifully landscaped grounds, the award-winning, adults-only hotel has a tranquil island-within-an-island feel.
At Minos Palace, all rooms feature ocean views. Choose from an upper deck sea view room to an ultra-luxe sea view suite compromising of 38 sqm of living space and an exclusive sharing pool.
Brand new this year are the stunning Waterfall Suites, designed for seekers of ultimate luxury and restfulness. The 61 sqm suites consist of a large double bedroom, bathroom with walk-in shower, elegant living area and louvred doors that open up onto a furnished private terrace. Best of all, you can admire the mesmerising views of the bay and town from your very own private freshwater pool!
Start your day with a beautiful sea-view breakfast buffet at the Amalthea main restaurant then taste the finest Cretan and Mediterranean delicacies at Inblu All day lounge Bar Restaurant. The hotel's two elegant bars serve a range of drinks and light snacks throughout the day until evening when it becomes a perfect spot to watch the sunset.
Reach the epitome of relaxation with a range of soothing treatments and stress relieving massage techniques, then unwind in the hammam and sauna at Minos Palace's Ananea Wellness by Aegeo Spas.
Ready to explore Crete? Visit bluegr.com to book your stay.
ENDS
Notes to editors
For all media enquiries, please contact Jack Terry, UK PR Account Manager: jack@prmediaco.com.
About bluegr Hotels & Resorts
The bluegr Hotels & Resorts Company features the best hotels in Greece. Each property in the bluegr collection combines the three pillars of quality tourism: exceptional service, hospitality excellence, and breathtaking locations.
bluegr ensures holidays of leisure and wellness, business and pleasure, family fun and romance, and memorable experiences you will cherish for a lifetime.