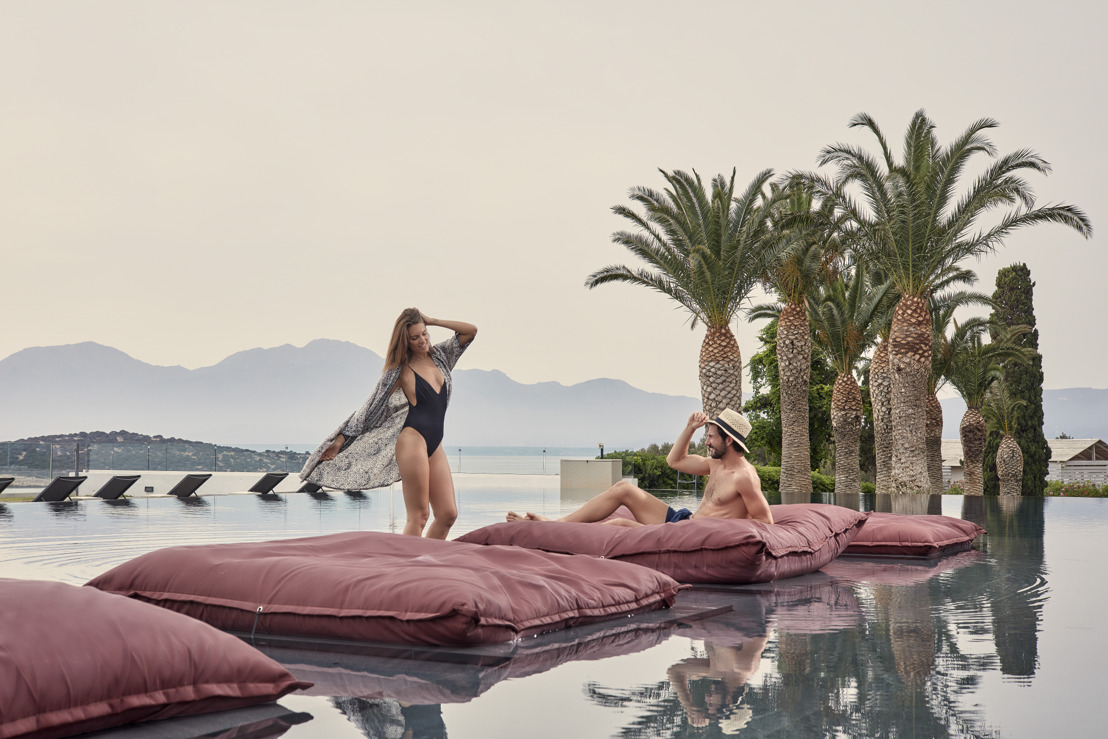 Create unforgettable moments with bluegr Hotels & Resorts
Wednesday, September 19, 2018 — Sun, sea and sand have always been the basic ingredients to a wonderful summer getaway. bluegr Hotels & Resorts offer all of this in one neat package, as well as helping you create the little moments that become unforgettable memories.
Nothing beats a day spent by the water - whether it's the tree-lined beach at Candia Park village, the hilltop pool at Minos Palace hotel & suites, or even your own private villa pool at Minos Beach art hotel, you can while away the hours in blissful comfort with your nearest and dearest.
Head outside of your accommodation and discover a vast array of art at Minos Beach art hotel. Sculptures, paintings and installations adorn the grounds of the hotel, offering something new to see around every corner, from the lobby to the bottom of Mirabello Bay. Yes, really! – dive down to the Lost Ears of Agios Nikolaos and the spell-binding Hanging Gardens for an experience like no other on the island.
Fill your evening with mouth-watering gastronomy at one of bluegr's many hotel restaurants. The village square setting of Candia Park's Agapi Restaurant is full of life and colour, and Minos Palace's Culinarium Inblu Restaurant dishes up the freshest Cretan delicacies and authentic traditional recipes. Meanwhile, the balcony of La Bouillabaisse restaurant at Minos Beach is one of the most romantic settings, where you can dine under the stars and overlook the Bay. Find your perfect dish and share a meal to remember.
When the sun starts to set, it doesn't mean the day is through. If you are not yet ready to retire to your suite, each of the bluegr properties runs a full programme of seasonal events. Live music, themed nights and festivals will keep your day rolling to the witching hours.
Whether it's taking a stroll through the hotel gardens, a romantic dinner, or simply a family day spent by the pool, you can make moments to cherish in Greece with bluegr Hotels & Resorts.
Make the most of the 2018 sun with last minute booking offers available. Get 10% off stays at Candia Park village and Minos Palace hotel & suites, or 20% off Minos Beach art hotel, until 31/10/2018 by clicking the links above.
Or give yourself something to look forward to and book your 2019 stay now with an early booking offer of 20% off your stay!
Minos Beach art hotel: starting from £172.23, opening 15th April 2019;
Candia Park village: starting from £75.46, opening 19th April 2019;
Minos Palace hotel & suites: starting from £136.72, opening 20th April 2019.
ENDS
Notes to editors
For all media enquiries, please contact Jack Terry, UK PR Account Manager:
About bluegr Hotels & Resorts
The bluegr Hotels & Resorts Company features the best hotels in Greece. Each property in the bluegr collection combines the three pillars of quality tourism: exceptional service, authentic experiences, and breathtaking locations.
bluegr ensures holidays of leisure and wellness, business and pleasure, family fun and romance, and memorable experiences you will cherish for a lifetime.