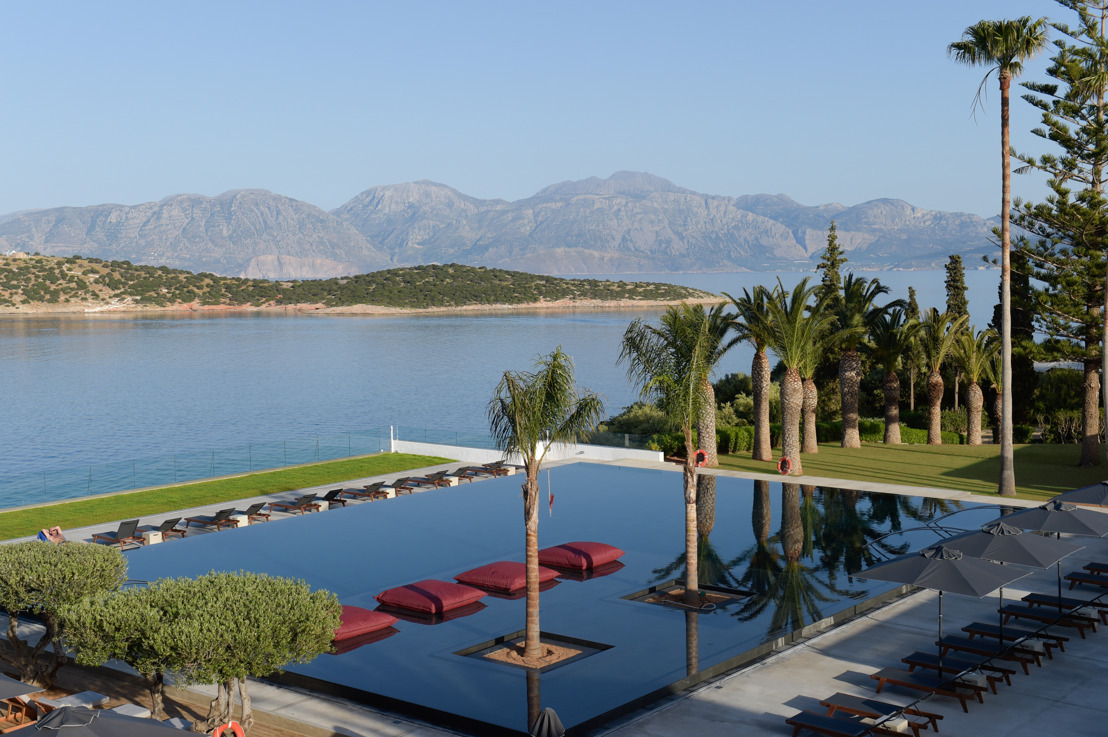 Couples-only resorts AND Family Friendly hotels – we've got it all!
Monday, June 26, 2017 — No two holidays are the same – every trip is a new adventure with individual experiences and memories. But amongst the most common holidays are the family getaways and the romantic couples retreats – two vastly different holidays with many important factors to consider. Luckily, bluegr Hotels & Resorts have you covered in both instances.
Greece's leading collection of luxury hotels brings you neighbouring properties on the gold and blue coast of Agios Nikolaos in Crete – Minos Palace hotel & suites and Candia Park village.
Starting with Minos Palace, this 5* hilltop haven is a couples-only resort offering pure luxury for a romantic, memorable holiday. Thanks to its unique location atop a hill between Mirabello Bay and the far-reaching Aegean Sea, the hotel offering stunning 360 degree sea-views, making it an absolute paradise for couples the world over.
The central pool has undergone an amazing, sophisticated refurbishment; flocked by elegant four poster beds, sun loungers and palm trees, Minos Palace is now undoubtedly the most exotic, romantic break on the island of Crete.
Meanwhile, the Amalthea Restaurant gets a spectacular new design overhaul whilst maintaining its focus on showcasing the finest local ingredients in delectable combinations. With an upgraded look, cosy environs, exceptional menu choices and appetising delights, guests are guaranteed a romantic culinary experience beyond their expectations in the most idyllic of settings. The adjacent outdoor bar provides the ideal location for signature cocktails under the Cretan night sky and the views across Mirabello Bay will make every evening spent here immeasurably sentimental.
Just 5 minutes away, Candia Park village is the Mediterranean's best choice for a family break; this 4* resort comprises everything you need to ensure you and your loved ones have the holiday of your dreams.
2 outdoor swimming pools and a kids pool take centre stage alongside the striking clock tower in this resort modelled on a traditional Cretan village. This central plaza plays host to a plethora of celebrations, festivals and activities throughout the season, helping you really get into the spirit of this beautiful island.
For the little ones, there is the Mini Blues Kids Club, where a full program of activities for children aged 4-12 includes face-painting, educational games and treasure hunts. For younger children, there is a full range of services, including nannies and extra cribs, whilst the older kids can make use of the sports facilities and cinema - yes cinema!. Alternatively, Candia Park organises a catalogue of environmental activities for all guests, and local bike rides to ensure there is something for everyone.
If you're looking for something to get pulses racing though, the private beach and Candia Park village is where guests will find the Candia Ski Club. Watersports aplenty to be found here, from waterskiing, to banana boat rides and wakeboarding. Plus, if you want to enjoy the delights found below the surface, diving classes are available too, allowing you to discover the sea life up close and personal by the Mediterranean View Diving Centre.
To sum up, whether it's a relaxed, romantic break for two you're after or a fun-filled family vacation, bluegr Hotels & Resorts offer the "must-visits" this season.
loveholidays.com are offering a 7 night B&B stay at Candia Park village in a One Bedroom Family Room, with return flights from London Gatwick at the end of July starting from £744.66 per person.
Thomson are offering a 7 night Half Board stay at the end of July with return flights from London Luton, starting ast just £1,048 per person.
-ENDS-
Note to editors:
About bluegr Hotels & Resorts
bluegr Hotels & Resorts is a private family-owned hotel & tourism company. The group's aim was to elevate luxury holidays to a whole new level of indulgence by introducing an experience breakthrough for 4 star and 5 star hotels in Greece supported by the 3 pillars of quality tourism: breath-taking locations, exceptional service and authentic experiences. The company features some of the best hotels in Greece: Minos Beach art Hotel, Minos Palace hotel & suites and Candia Park village in Crete, Life Gallery athens in Ekali, Athens and Sunprime Miramare Park suites & villas in Rhodes.