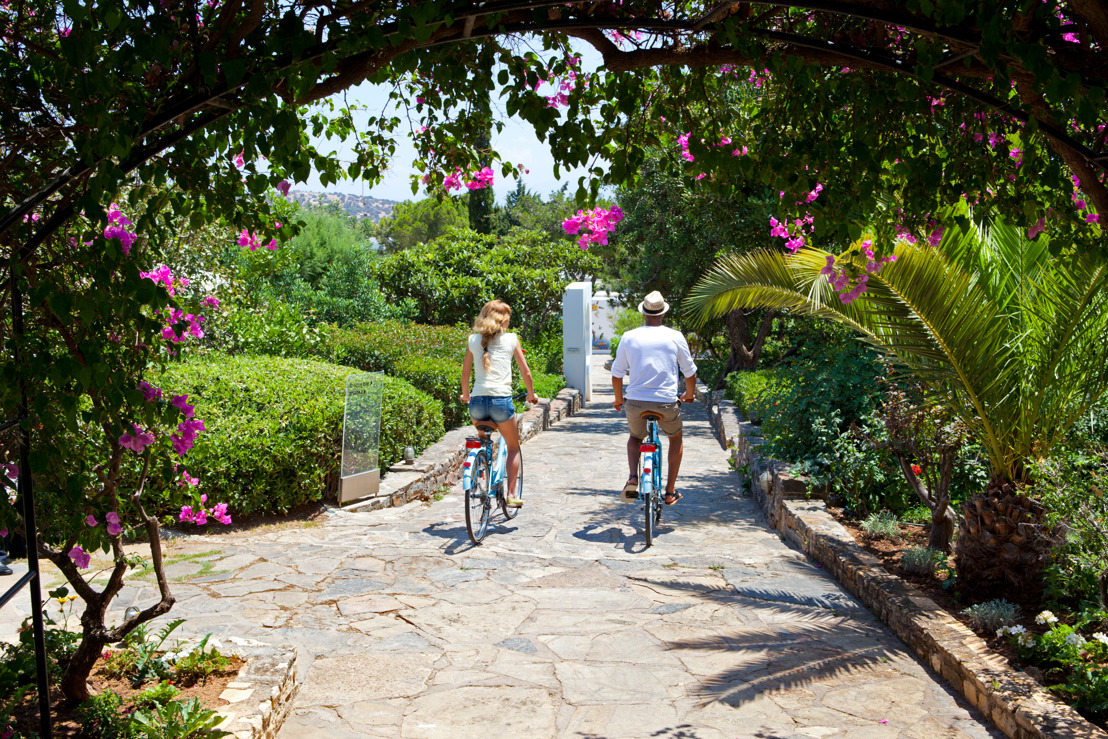 Celebrate a One-of-a-kind Easter with bluegr Hotels & Resorts
Thursday, March 28, 2019 — If you are looking to spend Easter in Greece this year you are in for a treat - your ideal stay awaits with bluegr Hotels & Resorts. Whether you're a serious foodie, spa-lover, a family looking for the best Easter fun, a couple seeking romance and seclusion or a culture vulture, bluegr has everyone covered!
Your romantic Easter retreat
Planning a romantic Easter getaway with your partner? The island-within-an-island feel of adults-only Minos Palace hotel & suites gives couples the seclusion and tranquility they seek.
Stroll along beautifully landscaped grounds and enjoy the hotel's 360° views of Mirabello Bay and the Mediterranean sea together.
The 5* resort has its very own pristine, porcelain sand beach, perfect for enjoying a romantic sundowner with your loved one! If you are seeking something extra special you can arrange a private dinner under the stars.
Easter entertainment for the whole family
When it comes to family holidays, Candia park village has more than everything a family could wish for. Just imagine the magic of an Easter egg hunt through the replica of an authentic Cretan village, complete with central clock square, traditional Kafenion and private beach!
A full programme of activities includes film screenings and various sports. The "mini blues" kids club, which hosts events for children aged 4-12, such as face-painting, educational games and treasure hunts, brings joy to your little ones.
Gastronomy delights for a foodie Easter
Easter in Greece is all about the food. At Minos Beach art hotel you have 4 world-class restaurants serving up the finest Easter treats. Enjoy fine dining at La Bouillabaisse, authentic Cretan gastronomy in the Adeste Kafenion, Mediterranean classics at Ambrosia a la carte Restaurant and lavish buffet spreads at Bacchus Main Restaurant.
As well as an incredible spa and an outdoor swimming pool you will find 45 exceptional artworks scattered all across the hotel - on the beach, in an outdoor gallery and even underwater.
Celebrate with the capital
If you are looking to celebrate Easter at some of the most stunning and historical churches in Greece, Life gallery athens in the northern suburbs of Athens, is your go-to. Pop down to see the beautiful candlelit processions through the streets, then head back to enjoy the serenity of your exclusive 5* boutique retreat.
At Life gallery athens you can soak up the sun in a maze of tropical gardens and two outdoor swimming pools and take dining to the next level at the Kool Life Bar Restaurant with Chef Battle events and regular Sushi nights.
Whatever you're looking for, bluegr Hotels & Resorts is the perfect spot for an Easter vacation to remember!
ENDS
Notes to editors
For enquiries, email jack@prmediaco.com.
About bluegr Hotels & Resorts
The bluegr Hotels & Resorts Company features the best hotels in Greece. Each property in the bluegr collection combines the three pillars of quality tourism: exceptional service, authentic experiences, and breath-taking locations.
bluegr ensures holidays of leisure and wellness, business and pleasure, family fun and romance, and memorable experiences you will cherish for a lifetime.