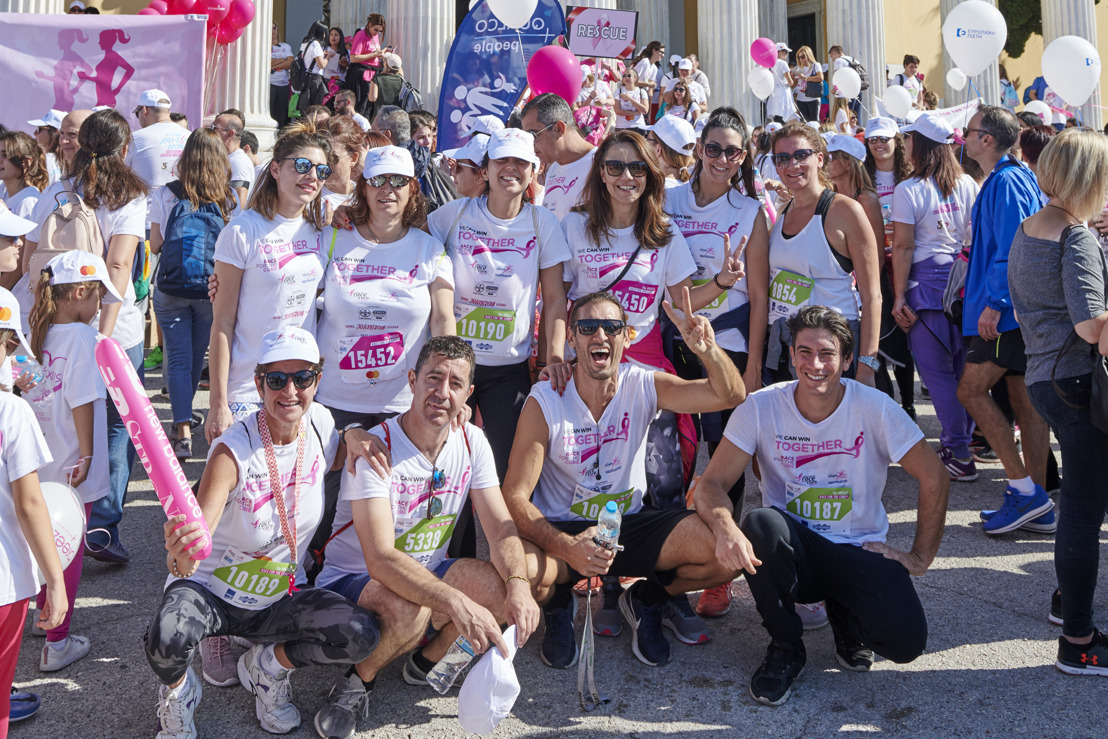 bluegr Hotels & Resorts supports women with breast cancer
Tuesday, October 16, 2018 — bluegr Hotels & Resorts participated for the first time in the 10th Greece Race for the Cure running and walking event, which was organised in Athens on Sunday 7 October 2018 by the Hellenic Association of Women with Breast Cancer, "Alma Zois".
Having a strong sense of social responsibility, the hotel group actively participated in one of the country's largest street races, an international event which first began in 1982 in Dallas, Texas, and which now celebrates its tenth year in Athens, aimed at raising awareness about breast cancer prevention.
Ten employees, both men and women, of bluegr Hotels & Resorts came together to take part in the 5km race as well as the 2km walk as team bluegr. Amidst a jubilant atmosphere in the heart of the city, the team of bluegr Hotels & Resorts celebrated life with thousands of others, carrying the message that prevention is the strongest shield against breast cancer, a disease that afflicts millions of men and women each year.
Aware of the importance of corporate social responsibility, bluegr Hotels & Resorts engages in a wide range of activities each year with the aim of contributing to society and the protection of the environment. Within that context, the group has created its own blood bank, while recently it supported the victims of the catastrophic fires which occurred in Mati by providing much-needed basic necessities.
As a member of the We Do Local programme, bluegr Hotels & Resorts supports localism, and it joined in the celebrations for World Tourism Day, organised by the Municipality of Lasithi on 27th September, the proceeds of which were donated to charitable institutions in the region.
Finally, fully aware that the environment is home to all, bluegr Hotels & Resorts actively supports World Coastal Cleanup Day, with the hotels' beaches in Crete having earned the Blue Flag award for the past 25 years.
Interested in more from bluegr Hotels & Resorts? Visit the official website.
ENDS

Notes to editors
For all media enquiries, please contact Jack Terry, UK PR Account Manager:
About bluegr Hotels & Resorts
The bluegr Hotels & Resorts Company features the best hotels in Greece. Each property in the bluegr collection combines the three pillars of quality tourism: exceptional service, authentic experiences, and breathtaking locations.
bluegr ensures holidays of leisure and wellness, business and pleasure, family fun and romance, and memorable experiences you will cherish for a lifetime.