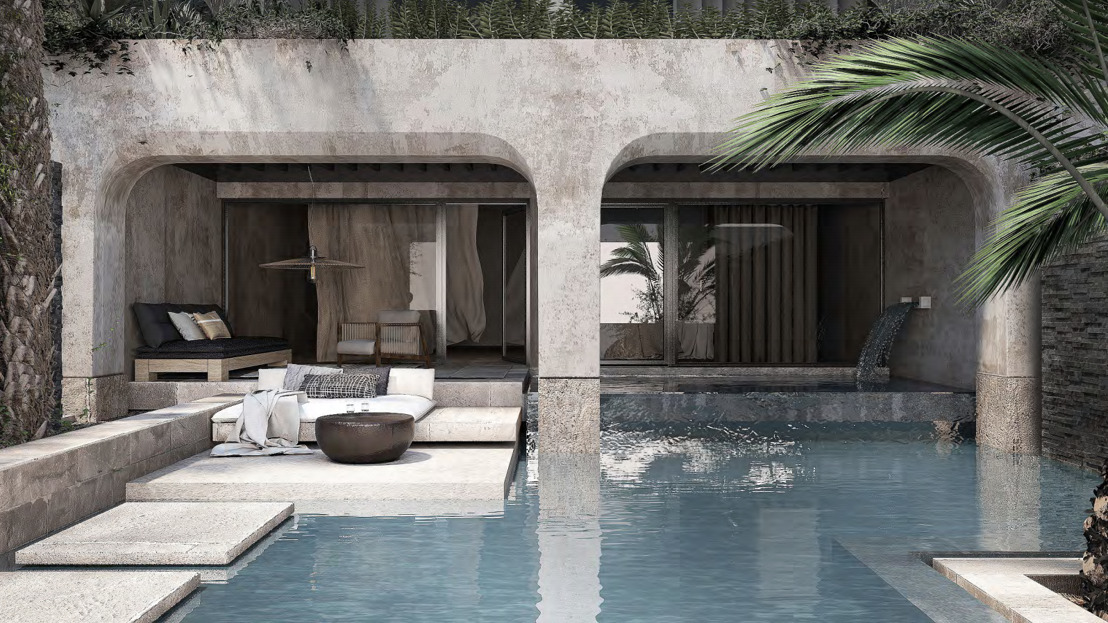 bluegr Hotels & Resorts Get Classy New Look: Waterfall Suites
Friday, April 27, 2018 — bluegr Hotels & Resorts have ushered in a new era of Greek hospitality. Enter Waterfall Suites at Minos Palace hotel & suites.
For Crete's idyllic hilltop hotel, these five suites offer the most romantic, indulgent experience to date.
Stretch out in a plush master bedroom and separate living area, framed by threaded fabrics and wood accents. Embrace the warmth of earthy hues and the cool echo of the running waterfall. Pamper yourself in the redesigned bathroom and walk-in shower featuring brand amenities.
Where louvred doors open to a private terrace, you'll find a 35 m2 freshwater pool to call your own and float away in. A revamped central pool area paints the scene as a haven of palm trees and four-poster poolside beds, so you can lie back and admire the views of Mirabello Bay.
The Theme That Sets Minos Palace Apart
The new suites advance the theme of using earthy tones in place of the typical whitewashing seen on many Greek islands. A concept that sets Minos Palace apart from other hotels in Crete and gives it a luxurious, en vogue air.
The Waterfall Suites with private pool are the next step in bluegr's vision for Minos Palace. The first will be available this season, giving guests the chance to experience supreme luxury ahead of 4 more rooms being available for the 2019 season. These, along with plenty more redesigns in 2018 and 2019 will keep the hotel fresh and far ahead of the competition.
Don't look any further for your dream holiday destination in 2018! Minos Palace hotel & suites combine island living, fine dining and ultimate indulgence.
Find out more and book now at minospalace.com.
ENDS
Notes to Editors
For media enquiries, please contact Jack Terry at jack@prmediaco.com or call +44 (0)20 3302 5560.
Pressroom and media gallery: bluegr.prmediaco.com
ABOUT BLUEGR
bluegr Hotels & Resorts is a private family-owned hotel & tourism company that was envisioned and founded by its CEO Mrs. Gina Mamidakis. The company's aim was to elevate luxury holidays to a whole new level of indulgence by introducing an experience breakthrough for 4 star and 5 star hotels in Greece supported by the 3 pillars of quality tourism: breath-taking locations, exceptional service and authentic experiences. The company features some of the best hotels in Greece: Minos Beach art Hotel, Minos Palace hotel & suites and Candia Park village in Crete, Life Gallery athens in Ekali, and Sunprime Miramare Park suites & villas in Rhodes.