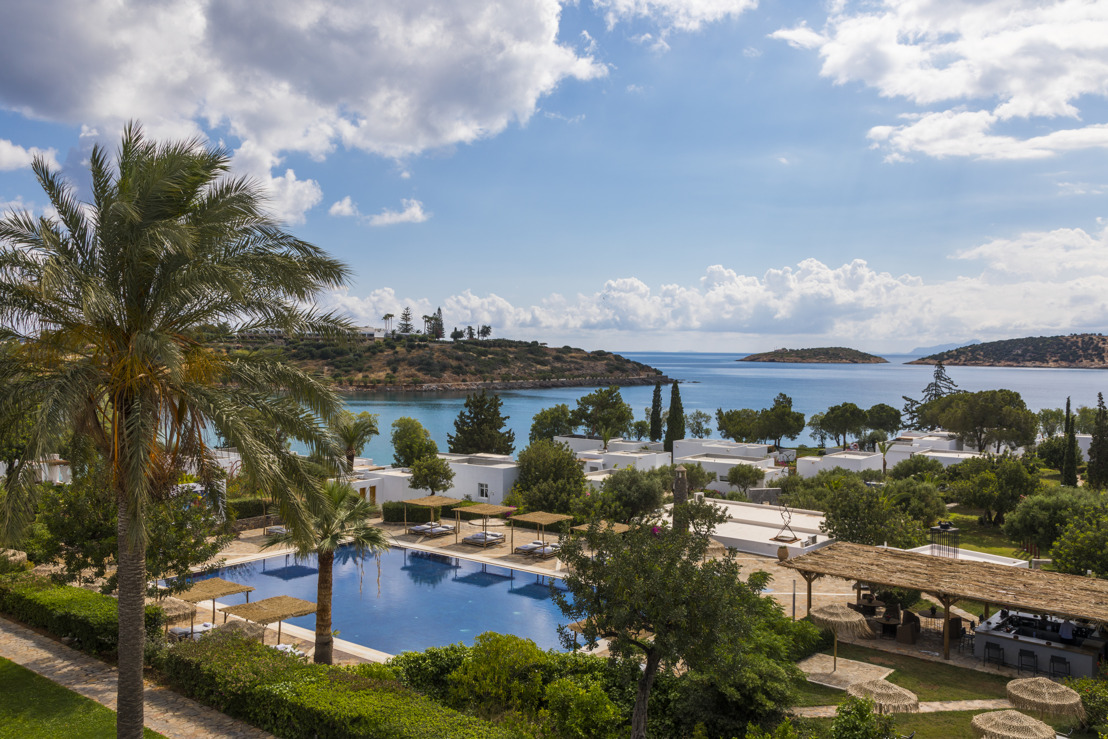 4 Can't-Miss Hotels in 2018: The Best of Greece
Tuesday, February 6, 2018 — Longing for summer? No matter your fancy, Greece ticks the boxes for an amazing holiday. Of course, any memorable adventure starts with a great hotel. And the bluegr collection of hotels and resorts has something for everyone. Check out 2018's top four can't-miss hotels for friends, professionals, couples, and families.
For Friends: Minos Beach art hotel
Minos Beach is a 5-star art hotel within walking distance of Agios Nikolaos, a coastal city on the island of Crete. This property features a spectacular beachfront location that overlooks Mirabello Bay.
A fantastic hotel for friends, Minos Beach offers a spa, an outdoor swimming pool and a wide variety of dining options to immerse you in the Cretan way of life. Its impressive art collection boasts over 45 works on land and even underwater.
Each of the 129 whitewashed bungalows and villas come with a balcony or veranda, and private pools are also available. In each room, Jacuzzi showers and local amenities add a touch of luxury to your stay.
Several villas, including the 3 Bedroom Waterfront Villa with Private Pool, cater to large groups. Invite your friends along; then bask in the comfort and privacy of gated terraces, a heated pool, and a fully-equipped kitchenette.
For Couples Only: Minos Palace hotel & suites
Minos Palace is a 5-star resort that features 148 rooms and suites with 360-degree sea views. The couples-only resort is also home to two restaurants, two bars, an outdoor swimming pool, and a luxury spa.
Choose from the Upper Deck Sea View room through to the One Bedroom Suite Sea View with Private Pool. All options come with furnished balconies or terraces for ultra-cosy moments. Each room also provides romantic treats for couples, such as Aerospa baths, walk-in wardrobes or fragrant gardens.
For Families: Candia Park village
Set on Mirabello Bay, Candia Park village resembles an authentic Cretan town with its picturesque neighbourhood, central clock square and traditional cafes. Guests are invited to experience the traditional Cretan lifestyle, stroll through the neighbourhood, and unwind on the waterfront at one of the best family resorts in Crete.
Two restaurants and two bars serve a wide variety of Mediterranean dishes. And during the high season, a kafenio doubles as a supermarket. There are also two outdoor pools, one kids pool, a private beach, and a watersports centre to help you fully enjoy the bay.
For Businesspersons: Life Gallery athens
Life Gallery athens is a 5-star design hotel that combines business with leisure in a natural environment. This property marries modern architecture and minimalist design, carrying the signatures of respected artists such as Gervasoni, Molteni, and Casa Milano.
Business travellers will be pleased to find state-of-the-art conference venues for events. Glass surfaces and unique lighting systems in each room provide an elegant vibe while bespoke services ensure your meeting is both successful and memorable.
A maze of tropical gardens leads to two outdoor swimming pools where you can soak up the sun. Then, when business calls, Life Gallery athens provides easy access to Athens' main roads and districts.
Visit bluegr.com to book your stay.
ENDS
Notes to editors
For all media enquiries, please contact Jack Terry at jack@prmediaco.com, or call +44 (0)20 3302 5560.
Pressroom and media gallery: bluegr.prmediaco.com
Header image: Minos Beach art hotel
About bluegr Hotels & Resorts
The bluegr Hotels & Resorts Company features some of the best hotels in Greece. Each property in the bluegr collection combines the three pillars of quality tourism: exceptional service, hospitality excellence, and breath-taking locations.
bluegr ensures holidays of leisure and wellness, business and pleasure, family fun and romance – memorable experiences you can cherish for a lifetime.